Phone or Text Fairfield Electric
Mail: 632-A Wilson Street
Victoria BC V9A 3H2
200 Amp Upgrade: Who Needs It?
A 200 amp main electrical service is now considered the standard for residences in our region (BC Canada). Most homes built before 2000 have 100 amp services or less. It is an expensive upgrade, so it is not to be undertaken without good reason. So how do you know if you really need one?
First, if you don't already know it, confirm your existing main service amperage:
Find the main switch of your main service breaker panel. Below is a picture of an older example.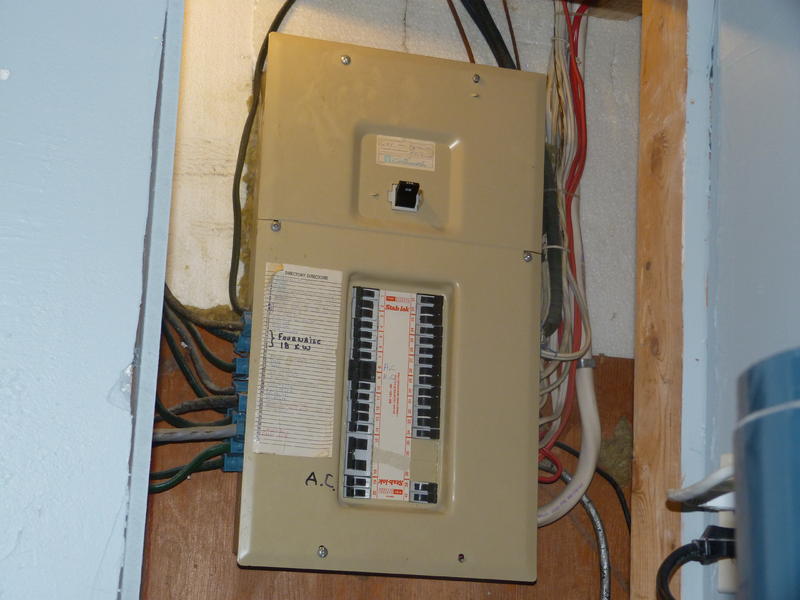 In this picture the main switch is the one on top, in the centre. On the switch itself will (should) be a number showing the amperage rating. Most likely it will say 60, 100, or 125. This number is (probably) your main service rating. In some cases the number is missing or not visible, or in error. To confirm, you can take a picture and email it to us at info@fairfieldelectric.ca and we will tell you what we think.
You may find you already have a 200 amp rating. I am often surprised when I get an order for a 200 amp upgrade and find that the client already has one!
You definitely need a main service upgrade if:
Your main breaker regularly trips;
You plan on replacing your oil or gas furnace or boiler with electric heat, such as baseboard heaters.
You probably need one if:
You want to charge an electric vehicle (EV);
You want more baseboard heaters;
You plan on building a large addition;
You want to run a hot tub, sauna, swimming pool;
You want to run hi-amperage equipment like a welder, kiln, or large saws, planer, etc.
You might want one to:
Augment the sale value of your property;
Or, in the case of your old main panel being in need of replacement, rather than replacing it with one of the existing amperage, you could upgrade to 200 amps since the additional cost is not great.
Every house is unique. Call us for an estimate over the phone 250-885-1227
You might want to familiarize yourself with the Electrical Code requirements.