Electric Vehicle Charging
Fairfield Electric can supply and install all types of electric vehicle charging stations. The chargers take a lot of power- we can easily determine if your electrical service is adequate. The best solution is to call us before buying the system so we can advise you as to what model or size of charger is best suited to your existing electrical.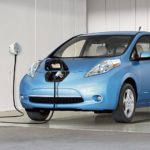 EV charging station.